So, What Is Homoeopathy?
Homoeopathy is a management option that is easy to administer , non-toxic. and cost-effective. The preparations have no side effects, won't mask symptoms and do not have a withholding period. The key to successfully using homoeopathy is to assess the precise symptom picture and correlate this with research data on the remedies.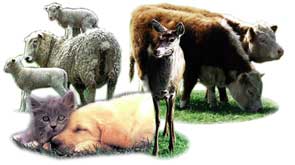 With this in mind, Solutions 4 Animals Ltd has developed an extensive range of kits targeting common seasonal problems encountered in farming, pets and horses. The symptoms and appropriate preparations have been studied and correlated, and compiled into kits. Each kit comes with supportive preparation, (which may be used in anticipation of a problem eg in Autumn when the risk of Facial Eczema is present), specific preparations for symptoms, full instructions, dispensing container and free consultancy support.
The price of using these farm kits is around 50 cents per sheep, $2.50 per cow or deer for the season.
SUMMARY
Farmers who have tried our products have enjoyed a high success rate and have expressed a high level of satisfaction as a result. The use of homoeopathic preparations is growing generally, as farmers search for alternatives.
For farmers involved in traditional farming, these products represent and alternative that does not involve withholding periods. For those seeking a biological approach but not full organic certification, our products can be used confidently without giving up existing methods and regimes.