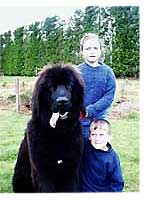 What our customers say about...
001 FLEA
"I have found the '001-Flea' Product to be very easy to use and remarkably effective.
In spring, we used '001-Flea' for our 4 dogs and 1 cat in their water bowls for 10 days, with the follow up regime of twice a week for a further 2 - 3 weeks.
Our dogs and cat remained FLEA FREE for a total of 5 months (And over the at-risk time of summer!)
We have boarding kennels, so have dogs coming and going all the time, and our working dogs sleep outside in a dusty kennel, consequently, the risk of re-infestation is high. Our dogs have looked well all summer, with healthy shiny coats, AND NO SCRATCHING.
I am happy to recommend this safe, effective and cost saving product to everyone who has cats and dogs."
Di Pritt, Mitredale Kennels, Ohakune
"We have found the '001 -Flea' remedy to be highly successful in managing our black Labrador, Sam, who has suffered badly with a flea problem for a number of years, with constant scratching resulting in hair-loss and bald patches.
Margaret McMillan, Wanganui
AN ITCHY TAIL TO TELL
Ah, the lovely warm days of summer AND THE FLEAS ARE BACK ! ( If they ever went away...) The following is a tale familiar to many ...
Sam is a black labrador with a problem that started with a little nibble from one flea that was passing by. Well that one little bite from that small pesky pest resulted in a large raw patch about Sam's tail, that bothered and bothered her endlessly. It seemed that she spent her whole day constantly scratching and itching at one part or another!
Sam then commenced - 001 FLEA - a unique combination of homoeopathic preparations. (001 FLEA offers the pet owner a non-pharmaceutical option for the flea problem. The preparation is administered in the drinking water and although it is uncertain how it works, it appears to assist the pets to become 'inhospitable' to the flea).
Following the regime, Sam remained Flea Free for the next 6 months!
Sam has had no further problems with Fleas and from her owner's point of view, home is a much more peaceful without that persistent scratch, scratch, scratch, itch, itch, itch, all day long.
This anecdote reflects the feedback we have received from pet owners that have used 001 FLEA.
001 FLEA is a gentle and safe solution and has been used safely and effectively on a range of pets from kittens to Great Danes, puppies to Persians. (We have even done trial work on bunnies, guinea pigs and hens !).
SO, for a small cost, you can RELIEVE your own irritation and all your pet's for up to a year. (There is sufficient tablets for 2 complete regimes). As the preparation is administered in the water bowl, it will be available to all pets that have access to that bowl.